Your Brain Health Revolution Awaits
Reach your peak potential with our science-backed, revolutionary brain health solutions
Because your brain health has never been more important
In these unrelentingly difficult times, many of us are just trying to make it through the day. Anxiety, depression and burnout are at an all time high, and we barely have enough time in the day to tend to our basic human needs. We struggle to make our physical health, let alone, our brain health, a priority. But our brain is the crucial organ powering our wellbeing through all facets of our lives—personally and professionally. And nurturing our brain just moments a day in a careful, precise way, could improve our lives drastically. In fact, we are all just 15 minutes a day away from reaching our full, peak potential.
Shark Discoveries And Kevin Harrington Launch BRTV Campaign With Brain Health Sciences
As part of its BRTV campaign with Shark Discoveries, Brain Health Sciences will be appearing in 60-second spots set to air nationwide and feature the original Shark himself, Kevin Harrington. Shark Discoveries is comprised of an award-winning team of producers, writers, videographers, and editors as well as industry veterans dedicated to finding the latest, most innovative products and ideas, and putting them on the BRTV map.
dedicated to helping to create happy brains and happy lives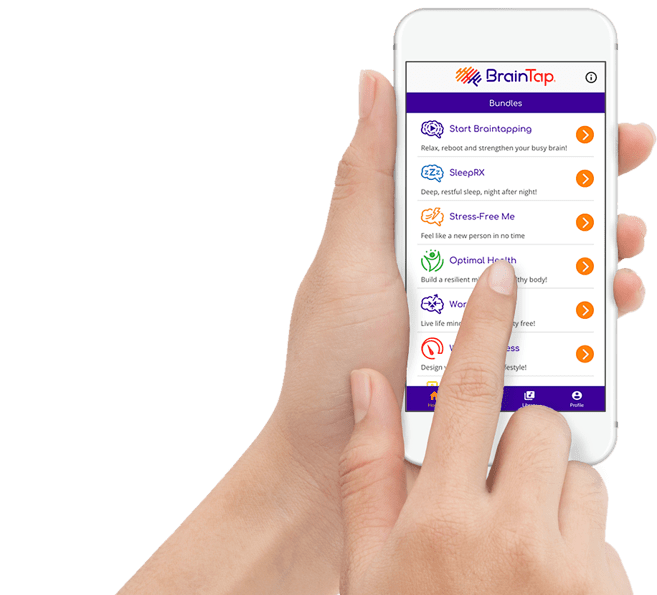 Tap into your best self — let us guide you.
Our team at Brain Health Sciences is thrilled to share BrainTap™, a powerful, all natural, drugfree solution that alleviates the effects of stress, improves sleep quality, and provides clarity for optimal performance through a proprietary, extensively fine tuned technology of brain entrainment.
BrainTap™, uses an exclusive neuro-algorithm scientifically proven to help you achieve perfectly balanced brainwave states — resulting in optimal, integrated function of body and mind.
And unlike other meditation apps, where users have to follow instructions, our 150+ unique sessions do the meditation for you. You can even fall asleep during the sessions and still get the advantage of the BrainTap meditation!
A happy brain can lead to a more peaceful and restful night's sleep
Frequently asked questions
A happy brain leads to a happy, healthy life both, personally and professionally
"I've been using BrainTap technology over a year. It has helped me deal w depression and anxiety. I often use it for 3 x a day. I had a hip replacement 4 months ago, there are some excellent pre-op and post-op sessions. I highly recommend this product."
"I started using BrainTap to help me sleep better, I did. Then I continued to use it daily for guided meditations and learn from the hundreds of topics that I have an interest in. I believe that I wouldn't be sleeping as well as I experience the stressors in our world."
"I started using the BrainTap to control my ADHD, and the results were nothing short of amazing. I was skeptical of the technology at first, then tried it through a wellness center near me, and it worked better than my antipsychotic medications on the first try, so I bought myself a BrainTap headset and now I am able to focus on things without getting distracted. I would highly recommend it to the world."
"This product has helped me with my stress and anxiety. It has also helped me to sleep much better. I own my own headset and love the freedom to use it whenever I want, especially around bedtime. Anyone thinking about this product, I would highly recommend it, it has changed my life."